Archivi categoria:
tecnologie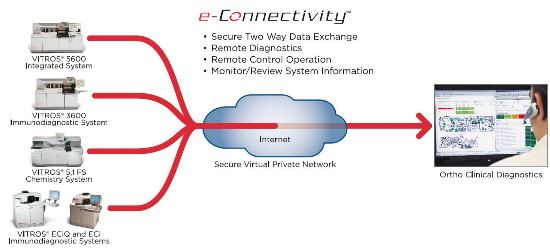 e-Connectivity® Interactive System Management Overview
e-Connectivity® Interactive System Management provides a real-time, secure two-way interactive connection between enabled VITROS® Systems and Ortho-Clinical Diagnostics Technical Support.
e-Connectivity is designed to help increase your system up-time and enhance your overall laboratory's productivity and workflow:
• Resolve system and assay concerns immediately, without a service visit
• Automatically transfer your system's data to Ortho-Clinical Diagnostics, while maintaining system operation
• Download system software updates and assay calibration information automatically, without interrupting sample and assay processing
Proactive data analysis by Ortho-Clinical Diagnostics may provide information for potential system improvements and identify pending issues, allowing them to be addressed before performance is affected.
Secure, confidential and private
Using a broadband connection and Virtual Private Network (VPN) router establishes a secure connection between an enabled system and Ortho-Clinical Diagnostics Technical Support. e-Connectivity was designed with a focus on security, confidentiality and privacy. Ortho-Clinical Diagnostics Technical Support cannot change results, information or data. The operator has full operational control for allowing access and retrieval of potential patient information used in Sample Programming and used in keyboard entries on system software screens. Operators should configure the system so that patient information is excluded in data logger files retrieved during a data exchange.
The Ortho-Clinical Diagnostics VPN Router features an ICSA (International Computer Security Association) certified dynamic firewall. This device prevents any unauthorized access to the VITROS System. It allows communication from the systems only through the VPN tunnel to the OCD VPN router. This system is not exposed directly to the Internet.
e-Connectivity is available for the following Ortho-Clinical Diagnostics systems:
VITROS® 5,1 FS
VITROS® ECiQ
VITROS® ECi
Interested in exploring what e-Connectivity can do for your laboratory? Contact your Account Manager for a demonstration today.
Customer Feedback
Software updates/modifications
Information is pushed to instruments faster than loading disks. Assay data disks can be pushed to the customer's systems automatically and on request, with no lost disks and no delay in mailing.
"We were missing cal data on a new RA kit and the Hotline pushed the software to us. We got it right away and were able to calibrate and keep running." –-customer in Canada
Proactive monitoring
Problems are identified and help is provided before customers are aware something is wrong with their system. The Ortho-Clinical Diagnostics service organization is continuously expanding its proactive monitoring capabilities through enhanced tools, allowing it to review instrument status quickly and efficiently, and deliver automated service alerts.
"…is fabulous! I was called and told there was a problem with my SS3 belt and it saved me from troubleshooting. The part was shipped and arrived the next day and our bioengineer was able to fix the problem without wasting time." – customer from Western Canada
Remote diagnostics
"Just last week we had a Chloride problem after I calibrated. I sent the data to the Hotline via the e-Connectivity icon, but I had to leave at the end of my shift. They called the next day with the solution and talked to the person running the analyzer as I wasn't there, but it didn't matter. She knew what to do even though it was me that started with the Hotline!" – customer from Pennsylvania